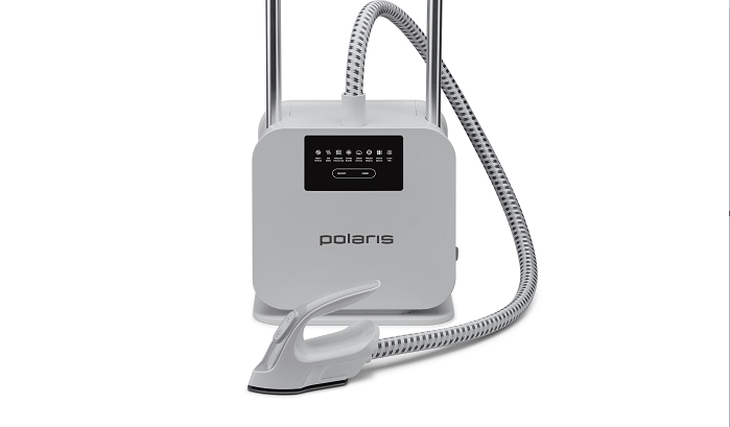 A modern person appreciates his time and free space in the house.
The Polaris PGS 2020VA steam ironing system will save time and replace three items at once: a steamer, an iron and an ironing board. It is the ideal solution for home textile care that does not take up much space. Your clothes, upholstered furniture or children's toys will now always be ironed and disinfected.
WILL COPE WITH ANY CHALLENGE
The ironing system is equipped with a convenient iron-shaped nozzle for hard-to-reach places. Suitable even for delicate fabrics, outerwear or complex cuts. Has 8 modes for different types of fabrics: nylon, silk, cotton, polyester, combi, linen, denim and wool. The ComfyBoard PRO ironing board easily changes its position and unfolds horizontally, vertically, at an angle of 30 or 60 degrees.
3 in 1
The ironing system is compact and extremely functional. It includes a steamer, iron and ironing board. Thanks to its mobility, the steamer will save you time – you no longer need to unfold and turn things for ironing, they can be tidied up right on the hanger.
In addition, the set includes a number of useful accessories: a glove, accessories for steaming collars, pockets and cuffs, as well as a sturdy aluminum telescopic stand with adjustable height from 80 to 150 cm.All this will provide you with a fast, convenient and high-quality steaming process.
FAST AND CONVENIENT
The ironing system is well thought out and easy to use. The steam supply modes are controlled directly from the steamer handle, which fits comfortably in the hand and does not slip out. The appliance is ready for use in just 30 seconds and generates constant high-power steam up to 45 g / min. Equipped with a large removable 1.6 liter tank.
The power of the steamer is at the professional level – 2000 W. It has an anti-scale system that promotes long-term performance and cleanliness. Safe for all types of fabric.
Now tidying up even the most capricious dress with sequins will not be difficult, and complex cut blouses or woolen items will look perfect. The Polaris PGS 2020VA vertical steamer will save you hours of household chores and handle any task quickly and safely.
Advertising
Article Categories:
Interesting