18:35, 01/25/2021
Yesterday, the singer provoked rumors about her pregnancy.
Singer Elizaveta Gyrdymova, known under the pseudonym Monetochka, got married on December 26 last year. She announced this in her microblog on Instagram. For some time, the identity of the newly-made spouse of Lisa was unknown. However, a number of media outlets disseminated information that the singer had a close relationship with Victor Isaev – her co-author. A few days after the wedding, Lisa confirmed that she had married him. And yesterday, the singer even announced her pregnancy. But, as it turned out, it was just a joke.
In her microblog on Instagram, Lisa admitted that she just wanted to play a prank on everyone, and also to check the reaction of people to the news of the replenishment in her family. The singer also urged Internet users to laugh at this joke along with it (the author's spelling and punctuation hereinafter are given without changes – Prim. line.): "Guys, this is a joke. I warn you right away. Tell me if she's funny or stupid. I just wanted to publish it to see who thinks what. And then I thought that I was some kind of monster, since I was twisting some intrigue, gossip. "
Coin called her photo with a rounded belly a joke
We will remind, earlier Monetochka told what her husband Victor was doing. "Guys, since there is so much talk about our wedding, I wanted to clarify one detail) Everywhere they write that I married my producer, but the fact is that Vitya is not my producer, and never promoted artists in this sense. He is a composer, musician. And I'm a poet) In general, we just write our songs together, I am responsible for the lyrics, Vitya – for the music 🙂 so we are co-authors, partners, fellow tribesmen … and now also spouses) but not a singer and producer))) although I don't feel any hate for such pairs, I just wanted to correct a nuance that had cut my ear for a long time. And also THANK YOU FOR CONGRATULATIONS !!! I am happy and love you, "Lisa wrote in her microblog on Instagram.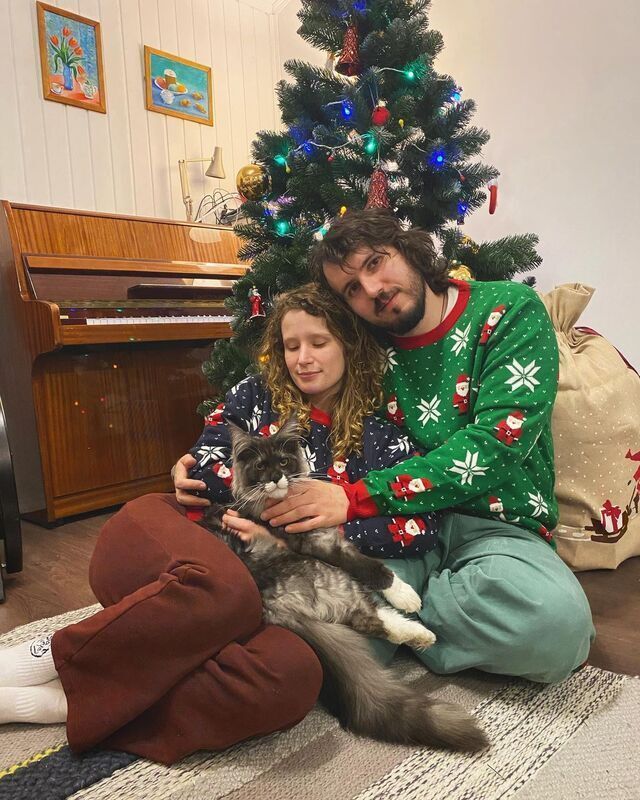 Coin with her husband
It is worth noting that Lisa did not publish the video from the moment of her marriage with Victor immediately, but only 20 days after the wedding. The footage appeared on her YouTube channel. "We posted a video from our registration on YouTube) There is a lot of funny and personal … maybe even too personal. We were even discouraged from uploading some fragments) But I'm not afraid and I want to really share with you this moment and my feelings. Our wedding is not like the ending of a Disney fairy tale, not like the wedding of our parents, not like a stylish celebration of Instagram celebrities … it is only ours) And you are invited, my precious guys. Someone's happiness loves silence, and mine loves loud songs, dances and sparks of joy scattering everywhere. Because it's me) And I'm glad to become even closer with you, "the singer wrote in her microblog on Instagram.
22-year-old Monetochka showed a video from the registry office three weeks after her wedding
We add that this year Monetochka starred in a full-length movie for the first time, playing in Zhora Kryzhovnikov's project "Native". Together with her, Sergei Burunov, Irina Pegova, Sergei Shakurov and Semyon Treskunov played in the film. The singer admitted that initially the audition caused her a negative reaction, but over time, Lisa liked her character and she played her with pleasure.
Read also:
22-year-old singer Monetochka announced her pregnancy
22-year-old singer Monetochka first told who her husband is
22-year-old singer Monetochka got married
Article Categories:
Show Business