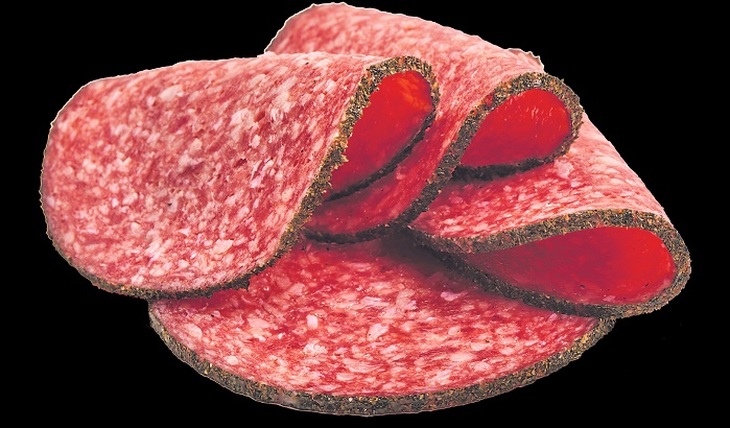 The popular boiled-smoked sausage with a characteristic "motley" pattern on the cut is a frequent guest on our festive table.
To find out how high-quality and safe it is, the editorial office of the newspaper and ANO "Russian Quality System" (Roskachestvo) conducted a study of the products of 29 brands.
THE MOST IMPORTANT IS SAFETY
First of all, cervelat has been tested for safety indicators, in particular, for the presence of antibiotics. The experts searched the samples for antibiotics from 15 different groups.
Individual antibiotics in cervelates of the following brands have been identified in quantities above the level permitted by the regulations:
• Metronidazole – "Starodvorsk sausages","Cherkizovsky".
• Oxytetracycline – "Dmitrogorsk".
• Furacillin – "Yola agricultural holding".
In addition to antibiotics, experts determined:
Toxic elements and radionuclides (cadmium, arsenic, mercury, lead, strontium-90, cesium-137).
Pesticides. Organochlorine pesticides used in agriculture take a long time to decompose and can migrate from one environment to another. From soil to plants, from feed to animals, from sausages to humans. In feed, the content of pesticides is standardized, but in sausages it is no longer.
Insecticides. Organophosphate insecticides, such as diazinon and dichlorvos, are sprayed on animals in summer, protecting them from ticks and gadflies. The cow can lick chemicals off the fur. Insecticides are removed from the animal's body slowly. And theoretically, they can also be found in meat and meat products.
"Cervelat" is not the name of a sausage, but a drawing on its cut. It is obtained by combining pieces of muscle tissue from pink to dark red in minced meat and pieces of white or white with a pinkish shade of bacon.
No insecticides or pesticides were found in the cervelates. The content of heavy metals and radionuclides does not exceed the maximum permissible level.
Preservatives. Some products contain trace amounts of benzoic and sorbic acids. The level of content is typical for the use of preservatives in the surface treatment of the loaves, which is allowed by our laws.
Hormones. Experts were looking for anabolic steroids in meat products, which are used abroad to rapidly increase the muscle mass of animals, as well as stilbenes derivatives – these hormones act on the adrenal cortex, pituitary gland and genitals so that the animal reaches puberty faster and gains muscle mass faster. If a person regularly consumes meat products that contain hormones, this can affect his well-being. No hormones were found in any of the samples. This means that both cervelat and meat producers are honest with consumers in this matter.
SMOKED – IS CARCINOGENIC?
As you know, carcinogens can be formed in the product from smoking. To find out the safety of cooked-smoked cervelat, the samples were tested for the content of polyaromatic hydrocarbons and benzopyrene, carcinogens that are often formed during smoking. It turned out that the mass fraction of benzopyrene in all samples was within the normal range, of other carcinogens – below the maximum permissible levels recognized in world practice as safe for humans. Meat products that are smoked during the manufacturing process should not contain more than 0.001 mg / kg of benzopyrene – this is 0.0000001%, or one ten-millionth of a percent.
When making sausages, "liquid smoke" is sprayed in the form of a mist over the sausage loaves through special nozzles. This achieves a double level of safety control for benzopyrene content. First in the smoke itself, and then in the sausage.
Experts say that the problem of benzopyrene was studied and solved in the last century thanks to the development of special equipment for smoking. This equipment allows you to get smoke without burning, but only due to smoldering. Due to this, the smoke contains many aromatic substances and practically does not contain benzopyrene.
According to experts, barbecue cooked in a country house on coals is much more dangerous in terms of the content of carcinogenic substances than industrially produced meat products.
"ALIEN": DNA and GMOs
The analysis for GMOs did not cause any comments. No GMO samples were found.
Soy and corn DNA found in trademark cervelat Mikoyan, Soy DNA – in brand name cervelates "Atyashevo", "Velikoluksky meat-packing plant", "Kortlav", "Natural products" Malakhovsky "," Starodvorskie sausages "," Family sausages "," Tsaritsyno "… At the same time, soybeans were not declared in the labeling of brand name cervelates. "Velikie Luki meat-packing plant" and "Family sausages"…
Rat and mouse DNA was not detected in any of the samples.
Horse DNA, indicating the presence of horse meat in the product, was identified in one brand. There is not a word about horse meat in the marking. Note that the analysis does not allow us to say exactly how much horse meat was in the sausage – it is possible that cross-contamination simply occurred on the line.
Poultry (chicken, turkey) DNA was found in almost half of the brands. Most of the chicken is included in the composition. In Soviet GOSTs, according to the original recipe, there should not be chicken in cervelat. But since the products are manufactured according to technical specifications, manufacturers have the right to add it.
GOST allows the fat content in cooked-smoked sausage not more than 47%. But manufacturers have not come close to this figure. The fat content in the samples is from 18 to 33%.
And here is, perhaps, the most serious violation. DNA analysis showed that one manufacturer ("Atyashevo") did not add … beef to the cervelat! Also, bovine DNA was not found in the brand name cervelate. "Egorievskaya", "Hoarfrost", "Cherkizovsky"… But the manufacturers do not hide this – beef is not indicated in the composition, so this cannot be considered a violation. In general, read carefully what is written on the label!
SAUSAGE WITH BEETS
According to the increased requirements of Roskachestvo, cervelat should not contain any dyes, except for natural carmine.
The samples were examined for the presence of the following dyes, which were not found, and the mass fraction of carmine (E120) was also determined. According to established standards, it should not exceed 100 mg per kilogram of product. All goods sent for research contain carmine, even in cervelates made in accordance with GOST, which does not provide for the possibility of its use.
At the same time, some of the manufacturers tried to hide the fact that they tint the sausage. No mention of carmine in cervelat labeling VkusVill, Gorin product "," Dmitrogorsky "," Yola agroholding "," Klinsky "," Myasnitsky Ryad "," Borodin's Meat House "," Starodvorskie sausages "," Family sausages "…
Carmine is a natural imported and very expensive dye, it is obtained from the cochineal beetle, which does not live in the Russian Federation. In accordance with GOST sausages, this dye is not provided, since GOST sausages are made from meat – there is nothing to paint. Usually, a dye is required when the recipe includes, for example, replacing raw meat with vegetable components – flour, starch, vegetable protein, etc.
Pavel Kulikov
Photo: Adobe stock
Article Categories:
Economy