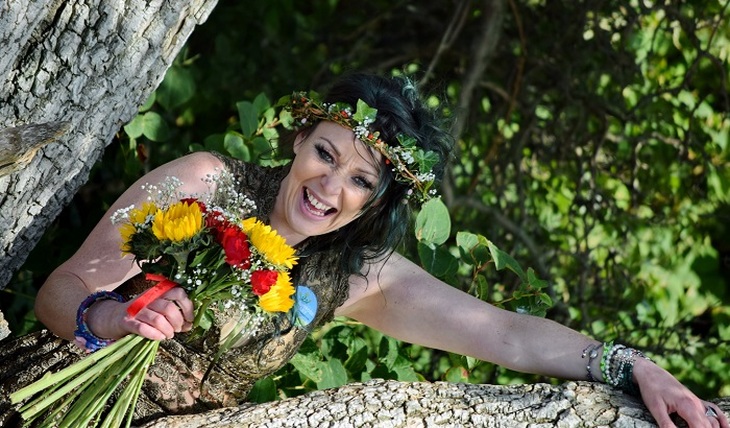 Kate Cunningham, 37, married a tree near her home in a nature park in September 2019. She recently celebrated her third Christmas with her "husband."
A resident of the village of Melling became not only British, but also a world celebrity, having entered into such an unusual alliance. Envious people say that she shamelessly engages in self-promotion, exploiting the theme of the struggle to preserve the environment.
The environmental activist visits her tree almost daily, and by Christmas she has decorated it with colorful garlands, wreaths, tinsel and festive toys. Kate married a tree during protests against the construction of a freeway through the local parkland. The forest survived, and the woman and the saved tree have since become inseparable.
Kate's family, her two children and a boyfriend, approved of her choice, explaining that Kate has always had an unusual connection with nature. Her boyfriend is calm about kissing and hugging his girlfriend with a tree. For her, trees are like people. They have a special energy and are able to connect with what surrounds them.
Keith says she was encouraged by Mexican women who married trees a few years ago to draw attention to illegal logging and land clearing. The authorities are calm about Keith's initiative, they are more concerned about the militant environmentalists and climate activists who regularly block traffic on major highways and city streets.
Nikolay Ivanov.
Photo: FACEBOOK
Article Categories:
Politics