13:50, 31.12.
The presenter admitted that she was in a bad mood because of the pandemic.
The coronavirus pandemic has seriously affected the show business. Due to the difficult epidemiological situation, many mass events were banned, which is why actors and musicians lost their jobs. Regina Dubovitskaya also spoke about the difficulties that have arisen due to COVID-19. The host of the "Full House" program noted that now it is very difficult for her and her artists.
Regina Igorevna noted that now she is not at all as cheerful as the audience is used to seeing her on the screen. The presenter said that the last concert of the "Full House" artists was on March 8, while the stars of the program were used to working a lot, going on tour and being in demand. Dubovitskaya also added that none of her team went on vacation. – they continue to film television broadcasts of the program.
Regina Dubovitskaya
"Now we are left without concerts! There has been nothing for a year! Because of this, of course, everyone is in a very bad mood. Not even because of the money, although this is also not easy. And due to the fact that no one understands what to do. None of them expected such a long vacation. If this situation continues for a long time, then everyone will be very depressed, "complained Regina Igorevna.
Dubovitskaya also commented on rumors that "Anshlag" had low ratings, and the program ceased to be popular. According to the presenter, if this were really so, the program would have been closed long ago. Regina Dubovtskaya said that she and her team traditionally prepared a festive program for the New Year. According to Regina Igorevna, the "Full House" show allows the artists' professionalism and talent to stay afloat for so long. Dubovitskaya considers it her merit that she keeps the whole team in tight-knit gloves and takes only new numbers into the program. The TV presenter does not make concessions even to old friends with whom she has been working for decades.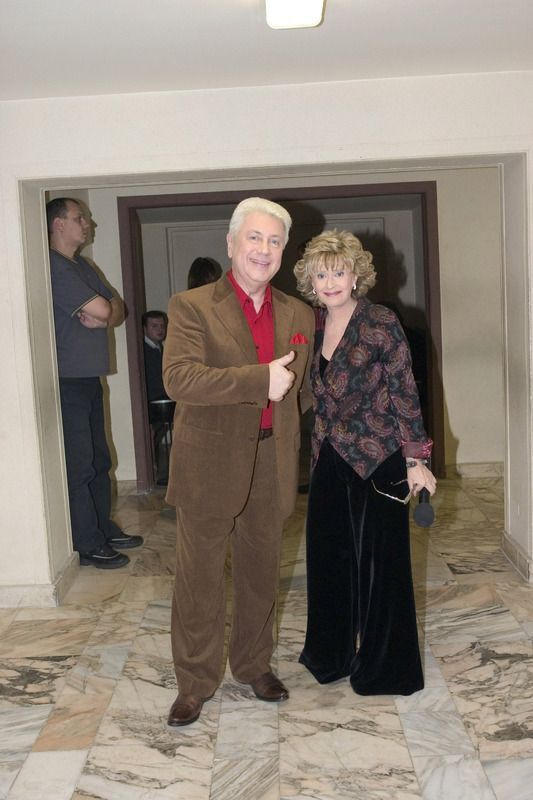 Vladimir Vinokur and Regina Dubovitskaya
"What does it mean to indulge Clara Novikova and Vinokur? If the room is good, then everything is fine. And if something is wrong in it, as I think, then it is removed. I say: "It seems to me that in this place you need to think, there – strengthen, here – remove!" The artists understand me. Although it is easiest for me to work, of course, with Vinokur. We have a complete understanding with him. Maybe due to the fact that we have known each other for a very long time. I don't even remember how old! Probably since 1974, "Dubovitskaya admitted in a conversation with reporters.
Recall that in addition to rumors about the closure of the "Full House", Regina Dubovitskaya has to regularly comment on information about her health problems. Journalists have repeatedly discussed the changed appearance of the artist. It seemed to the public that the 71-year-old star of the "Full House" program had lost a lot of weight and began to look not as attractive as before. Also, the attention of experts was attracted by the hands of Regina Dubovitskaya. One of the doctors suggested that the artist has the same disease that knocked down Yulia Nachalova – gout. "I don't feel any worse or older than I felt thirty years ago. There are more rumors about my health. In the fall, they suddenly began to write that I had the same illness as Nachalova. I don't know who needs it. I'm not sick at all. Okay, I'm used to it, "Dubovitskaya is quoted as saying by" Interlocutor ".
Read also:
Regina Dubovitskaya replied to Elena Vorobei, who criticized the "Full House"
The star of the "Full House" Regina Dubovitskaya reacted to the news about her incurable disease
71-year-old Regina Dubovitskaya for the first time commented on rumors about her romance with Vladimir Vinokur
Article Categories:
Show Business