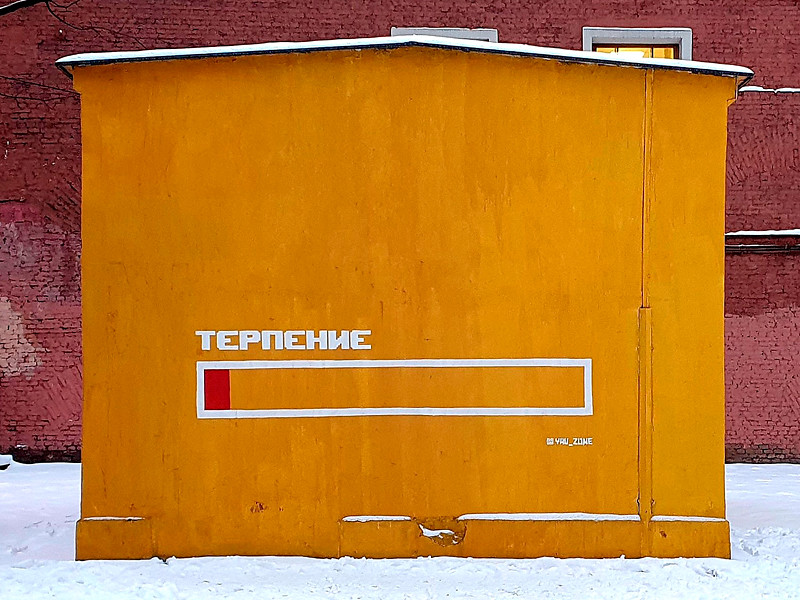 Art group Jav / VKontakte
Street artists from the Yav art group have created in the center of St. Petersburg a new work about the end of the people's patience. The art object stayed on the transformer booth for only nine hours, after which it was painted over by utilities, Gazeta.Spb reports.
Street art consisted of the inscription "patience", and under it – the scale of the battery charge, which is about to turn off.
Photos of the art object appeared in the "Yavi" group on the VKontakte social network. "We came up with this work back in May last year and left it for later. We decided to do it exactly when our patience really is close to zero. And that moment has come," wrote the authors of street art in the group. Navalny took us straight to a dystopia. Some farce is going on in Russia, a theater of the absurd. "
The artists also listed the key problems of Russia, because of which the patience of the people has dried up. Meager pensions and salaries of teachers and doctors, low level of medicine and education, "impossibility of normal business conduct", unqualified personnel in government positions, corruption, state persecution of active citizens, negligible funding of science, "destruction of Roscosmos and the Pulkovo Observatory."
In the same place, artists later commented on its painting: "When street art is simply painted over because it is not supposed to – ok, when it is painted over because of censorship, not ok."
Patience

SPb, 2021

Liteiny pr. 37-39

We came up with this work back in May last year, and left it for later. We decided to do it exactly when our patience really is close to zero. And this moment has come.# 23january pic.twitter.com/eC0AF0geKA

– Art group "Yav" (@yav_zone) January 22, 2021
"Patience" was painted over, the work lasted 9 hours.

When street art is simply painted over because it is not supposed to be – ok, when it is painted over because of censorship, not ok.

Photo – @ german25_ave pic.twitter.com/N86qxMhfSG

– Art group "Yav" (@yav_zone) January 22, 2021
Article Categories:
Politics