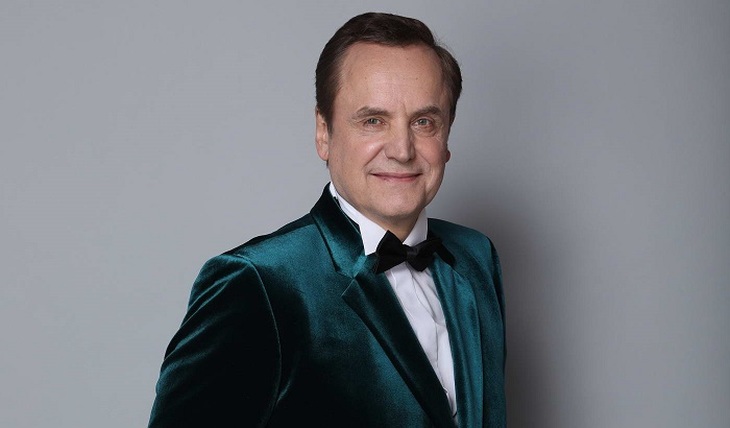 Glory to Andrey Sokolov came at one moment: when the film "Little Vera" was released, which became a film sensation of the perestroika years.
Well, now, by the age of 60, the artist has more than 100 roles in cinema and theater behind him (he has been serving in the famous Lenkom for more than 30 years) and several directorial works.
Andrei Sokolov has several hobbies, but his favorite is to compose poetry, he has been fond of this since childhood. And the actor sings, plays hockey, loves fishing, rides a motorcycle … Until recently, he even jumped with a parachute! The hero of the day told us about all this.
ANNIVERSARY SEX SYMBOL
– Andrei Alekseevich, happy birthday to you! How noted?
– Thanks for the compliments! I almost never mark the day of the day, because it's August, the time of holidays, and there is no one in Moscow. By tradition, the festival always takes place in the fall. True, now is not the time when you can engage in unbridled fun, you want to think about life in silence. So I don't know yet whether I will celebrate my anniversary this year… Although this is a great occasion to bring close people together. There are people with whom you don't see each other for a long time, but with such a meeting you don't feel this pause …
– Do you usually order gifts for your friends?
– I really don't like dust collectors. Yes, it may be beautiful, but it may sit on a shelf for a long time and have no practical use. So I'm a practical person in this regard. Therefore, I am for useful gifts. For example, on one of the anniversaries, all my friends chipped in and gave me a boat, as I am fond of fishing. By myself, I also like to give some semantic things. I have a friend who loves motorcycles. He needed one adapter, and he could not find it anywhere. I was able to get it and gave it to him. It was the most precious gift for him. And this is a special feeling when you were able to understand, guess the desire of a friend.
– You are still called a sex symbol. Is such a title flattering?
– It would be strange if I still squealed with delight when I heard this phrase, but I am pleased that this "title" is somehow connected with me. But these words for me are much broader in meaning. A sex symbol is a person who has attracted attention, who is responsible for his actions, who has a masculine principle, and so on. For me, such an example, if we talk about our cinema, are those people with whom I had the honor to serve in the Lenkom Theater: these are Nikolai Karachentsov, and Sasha Abdulov, and Oleg Yankovsky, and Alexander Zbruev. And if I am included in the galaxy of these respected people – I am proud of this and grateful to life for having it in it …
GENIUS POEMS
– You are a versatile creative person: you not only play in cinema and theater, but also write poetry. Remember the first one?
– I learned to read and write quite early – I was four or five years old. And my first poem was written at the age of six. It was called "Moscow Stars". And so it seemed to me that my first verse was such Pushkin and Yesenin in one bottle!
I cherish your tenderness
House cat eye colors…
I kiss your hands
I keep your words…
Where I didn't meet you
Again autumn winds paths.
"I yearned" –
the wind whispers
Covers the trail of leaves.
(09/08/1994)
I started writing letters to various Moscow editorial offices, and the text was something like this: "Dear editor! I understand that my poems are brilliant, but I don't need a fee. Just place it on the first page and write that the author is Andrey Sokolov, and put my photo. Only the editor of the Pionerskaya Pravda newspaper answered me: "Dear Andrey! Unfortunately, our editors have not grown up to your level. But as soon as this happens, we will definitely publish your poem." (Laughs.) But what is most interesting: it so happened that it was they who actually published my first poems …
– Do you consider yourself a poet?
– No, I don't think so. For me, a poet is something unearthly. Pushkin is a poet, Yesenin is a poet, Blok is a poet. There are still a lot of talented young people…
– What is poetry for you?
– This is what is the meaning of life. Something that, on the one hand, breaks you from the inside, and on the other hand, makes it possible to fly. For me, this is a hobby, and a favorite. But it did not penetrate me through and through, as it was with the great poets…
– I know, you still sing beautifully, compose songs …
– Musical talent was also discovered at the age of six. I entered the violin department – my mother wanted it that way. And the only condition for admission was: "If they ask you to sing some song, you, most importantly, do not sing Kalinka!" – "Why?" – "You don't need this!" And when the exam began, one of my competitors sang the song that I was preparing, and I had no choice but to perform "Kalinka". Naturally, they didn't take me. Then I nevertheless entered, but in the button accordion class, studied for two years, and then ran away, telling my mother: "Choose: either a son, or an accordion!" For me, solfeggio is still something incomprehensible. I learned to play the guitar already in the yard. And when I became a student at the Shchukin School, the first thing my vocal teacher told me was: "The most important thing is that you don't sing!" – "Why?" – "Well, you don't need this!" – "Understood!" And after that I started to sing! (Laughs.) So sometimes you have to go against the grain…
FIRST GLORY
How did you get into theater school?
– I read fables, poems. And he didn't come up with anything better than to pass off his poems as Sergei Yesenin. At the exam, the selection committee sat in front of me, which included Vladimir Etush and Yuri Katin-Yartsev. They always teased each other. I remember Katin-Yartsev asked: "Volodya, do you remember these verses?" "Hmm, volume three, page 15!" – Etush was immediately found. And that's how I entered the classics! (Laughs.)
– The painting "Little Vera" brought you popularity. What do you remember about your debut tape?
– My first film is "She with a broom, he is wearing a black hat", and I have very pleasant memories associated with it. When the picture was released, I went to the school to ask for leave to watch the film at the Oktyabr cinema. At 9 in the morning there was the first session … What I saw on the screen plunged me not only into bewilderment – it was a shock! Horror! Perhaps you recorded your voice as a child on tape? When I listened to my voice, it was an unpleasant sensation. But when I saw myself on the screen – I was simply amazed at the unprofessionalism of the director, who could choose such an artist for the role! .. Then I took time off for the second session. And I already thought that not everything is so bad. Then on the third … In general, there were five of them in total. After the fifth, I went out – no longer in a hurry, slowly – and people began to recognize me, asked for an autograph! It was the first glory…
GUY FROM CHERTANOV
– You work a lot: filming, playing on stage, staging films, performances, participating in various events … How can the body withstand all this?
– There are a lot of "notches" on my body. I once decided to count how many fractures I have, I can talk about them separately, but all this will take a very long time … Both sports and my native Chertanovo left their imprints … At that time there was even such a song: "I will take you away to the tundra or not – to Ivanovo. Yes, wherever you want – just not in Chertanovo! Because at that time it was one of the most troubled areas of Moscow… So, returning to the question, once I had 45 flights in two months. And after that, the back began to simply "crack" … That is, one must understand that health is not infinite. I try to keep my shape in the gym, I play hockey… If we talk about age, then it also makes itself felt. I understand all this – I am not shy and do not flirt. I understand that time is also not an infinite resource.
– But you were once involved in extreme sports …
– There was only one extreme sport – parachuting. I have one friend. And now, 20 years ago, he tells me: "Let's go, let's jump with a parachute." And it dragged on. I then dragged another friend of mine into this sport. Everything went well, we jumped and jumped. Until we had one photo: one is standing with a broken right leg, the second is with a broken left leg, and I am in the middle with a broken little finger in a cast. We looked at this photo, shook hands with each other and decided not to do this extreme sport anymore. Get on motorcycles! (Smiling.) We've been riding them ever since…
Anna Sokolova.
Photo: V. Tarakanov
Article Categories:
Show Business