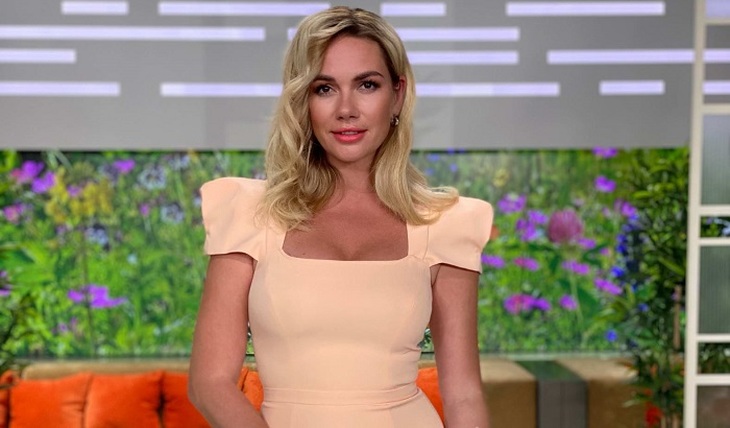 A mother of many children and the host of Good Morning on Channel One told how she manages to combine work, childcare and at the same time remain slim, beautiful and cheerful.
– Anastasia, you recently returned from another decree. Did you miss your job?
– Of course! I watched Good Morning and missed my colleagues. But I needed time to get back to work. Because when you have four children, especially if they are younger, it takes a lot of energy and it is difficult to combine it with any other activity. I organized everything, I managed everything, so you can see me on TV again.
– However, after the birth of your youngest son, you already went to work. Why did you decide to go on maternity leave again?
– Yes, I was on the air three months after the birth of my youngest son. I worked for about six months and realized that it still takes some time to accept a new life with four children. Therefore, I periodically went on parental leave and returned. It's good that this is possible now.
– But now you have definitely returned to work?
– Hope so. This year my youngest daughter Nika will go to kindergarten for a full day, and my youngest son Igor will go to a short-term stay group. I planned it all out and I hope that I will not go on parental leave again. Somehow I was already tuned in to fruitful work.
– That is, they no longer suffer from remorse, as many working mothers do: "What if I don't devote much time to children?"
– The main thing is to spend all your free time with children efficiently and profitably. Even if there is not much of it. It is clear that when there are four children, you cannot devote a lot of time to each. After all, it is necessary to organize leisure, and additional classes, and to participate in school life, and indeed in all processes. So little is better, but high quality. And self-realization is also important for me. The formula is known: "happy mother – happy children". Therefore, you need to be able to combine everything and find a middle ground.
– Many women after the decree complain that they are out of shape. And the TV screen is also fat. And how to be?
– Honestly, with age it is more difficult to get rid of extra pounds and it is also difficult not to gain them. So what to do? Well, now let's talk with you, I'll come home from work, get some rest – and start to work: I'll go to the pool, to the treadmill. Yes, of course, in my life I have sports, and some restrictions on food, and personal care …
– How do you like to relax?
– I love to go fishing with my husband, travel, although now, due to restrictions, we practically do not go anywhere … We love to ride bicycles – it turns out such an active vacation. In general, nature is closer to me, and going to restaurants and clubs is not mine.
– How do you relieve stress?
– I can go for a massage, swim, I can just sit alone with my thoughts. Sometimes my husband and I arrange romantic dates for ourselves in order to be only together.
– You have four children and all of different ages, with their own problems, crises. Is it hard for you?
– Of course it's difficult. There are crises of three years, seven, ten, and so on. It so happened that almost at the same time almost all of my children had a crisis. Of course, I pay attention to their hormonal and emotional changes. But all this is already familiar to me, there is experience. I understand what a child will feel at three years old, at seven, what can be expected from him, and so on, I am ready for this … The eldest daughter turns 15 this year. She will go to the ninth grade, and, of course, it is difficult for her, because the OGE is ahead. It so happened that last year we had distance learning, the children could not prepare well. This also affected the emotional state.
– Decide on a fifth child?
– I can't say – you have to think! (Laughs.) Because I want to devote time to myself. I would like to no longer tinker with diapers, but to exist more qualitatively. And maybe pay more attention to children: develop them comprehensively, understand what is closer to them …
– How to keep up with everything?
– I do not have time to do everything that I would like. Sometimes you have to sacrifice something, for example, your hobbies: there simply may not be time for them.
– You once said that you never thought about having a big family …
"I'm already so used to our big family that I can't even imagine how it could be different! (Smiles.) Yes, I'm used to having children's voices and a lot of people at home all the time. A big family is a great happiness! I just started thinking, because I can't even imagine how many grandchildren I will have … The most important thing is that all our children grow up as worthy people. And my husband and I will try to help them in this, we will do everything that depends on us.
Valeria Khvaschevskaya
Photo: Channel One.
Article Categories:
Show Business