14:52, 22.02.2021
The model admitted that she goes on dates.
After refuting the reunion with Timati, Anastasia Reshetova decided to talk about her personal life. So, the model commented on the rumors about a new novel, which were spread by the media. In addition, questions about whether Anastasia is in a relationship began to appear frequently in her microblog on Instagram.
"Both on the Internet and in certain circles, everyone is constantly attributing someone to me. I always laugh at it. Yes, I could communicate, go out to dinner, but it had not come to a serious relationship yet. Everything has its time!" – wrote Anastasia in the Stories section of her microblog on Instagram (spelling and punctuation of the author hereinafter are given without changes – Prim. row.).
Anastasia Reshetova commented on the rumors about a new novel

In addition, Reshetova noted that going to dinner with someone is not always a step towards a relationship. "This is to get to know the person better. This is a process when you look closely. I can't run into a relationship. I always look to the future, I need to be confident and I need stability. And if meeting with just anyone is stupid in order for a man to be near, then this is not a good story for a girl. This is my personal vision, "concluded Anastasia.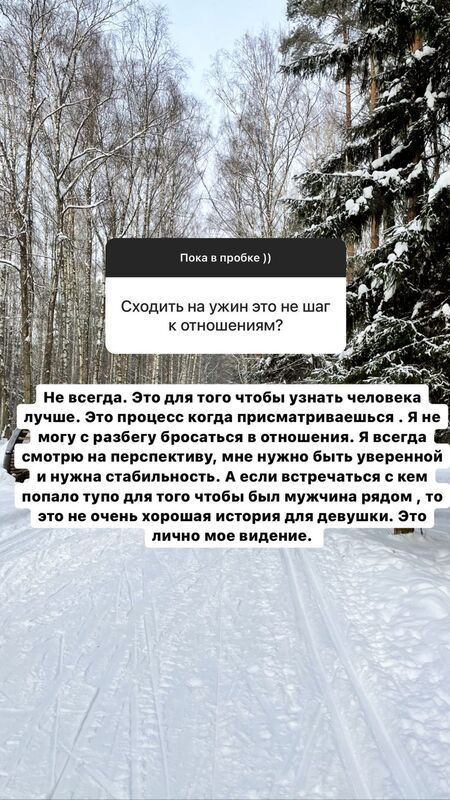 Anastasia Reshetova admitted that she could not immediately rush into a relationship
As a reminder, in September 2020 it became known about the breakup Reshetova and rapper Timati. The couple lived in this union for six years. In October 2019, Anastasia gave birth to a boy Ratmir from Timati. Although the couple tried not to advertise their personal lives, every now and then in the media there were rumors that the rapper and the model had parted ways. Later, this information was confirmed by Anastasia herself.
According to Reshetova, the last year of relations with Timati was a difficult test of strength, and their union could not stand it. "We are no longer one whole, not husband and wife, we do not live together. It was a wonderful 6 years from the moment we met until this summer. We were best friends, lovers, partners. There was a lot between us and it was great! " – said Anastasia in her microblog on Instagram. Reshetova added that her relationship with the musician was very multifaceted and emotional.
Timati and Anastasia Reshetova with their son
As Reshetova noted, the lovers were not involved in her decision. Anastasia stressed that she wants to prevent gossip that she was overtaken by the punishment for the fact that she once stole Timati from Alena Shishkova… Reshetova added that she has changed and her outlook on life too. It is worth noting that Anastasia promised the rapper to raise their common son Ratmir in love with his father.
Anastasia Reshetova with her son from Timati Ratmir
Note that Timati, after parting with Reshetova, went to look for his love in a romantic show "Bachelor". However, at the beginning of the year, rumors appeared that in the already filmed final of the project, the artist did not choose any of the participants. At the same time, an engagement ring appeared on Anastasia's finger again, and the model also boasted a luxurious bouquet of scarlet roses. Then a number of media outlets suggested that Timati returned to his beloved. However, Reshetova denied such speculation, and also added that she and the rapper maintain a very close, warm relationship for the sake of the child.
Read also:
Anastasia Reshetova denied information that she began her musical career
Anastasia Reshetova said that she gained 4 kilograms in a month
Anastasia Reshetova showed how the one-year-old son from Timati first congratulated her on her birthday
Article Categories:
Show Business