On the eve of the presidential elections in the United States, sociologists recorded a record low level of American confidence in the electoral system of their country. Major claims include fraud and fraudulent votes.
The poll on confidence in the elections was conducted by the American Institute of Public Opinion Gallup. It turned out that a few weeks before the elections, only 59% of US citizens believe that the votes will be correctly cast and counted.
Compared to 2018, the indicator of confidence in the US electoral system has decreased by 11%. This is a record drop. Sociologists attribute such depressing results to disappointment among Republicans and independents.
Americans have a lot of complaints about their electoral system: incorrect work of the postal service, votes cast by fraud, many cases of fraud.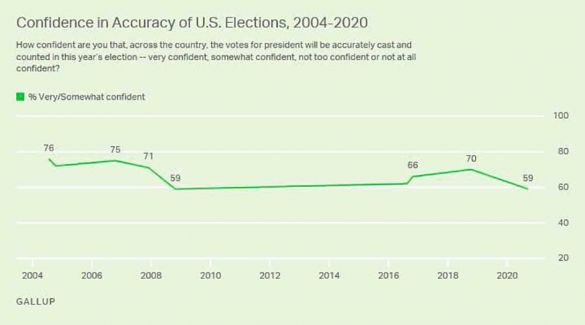 Against this background, the data of the ABC / WaPo poll are interesting, which recorded a gap in the preferences of those who vote early and those who will come to polling stations on election day. The emerging crisis of confidence in the government and the elections can lead to serious consequences for the American state.
The US presidential election will be held on November 3. According to the latest opinion polls, Joe Biden is in the lead in the election race. About 50% of voters are ready to vote for him. Donald Trump is supported by 41% of respondents.
Many Americans have already voted early. Due to the coronavirus epidemic, states have expanded the ability to express their will. Experts note that such a large number of US citizens have never voted ahead of schedule.
In Virginia alone, by early October, more than 287,000 people voted early. Slightly less in North Carolina - 248 thousand, and in Wisconsin - 238 thousand.
Article Categories:
Politics