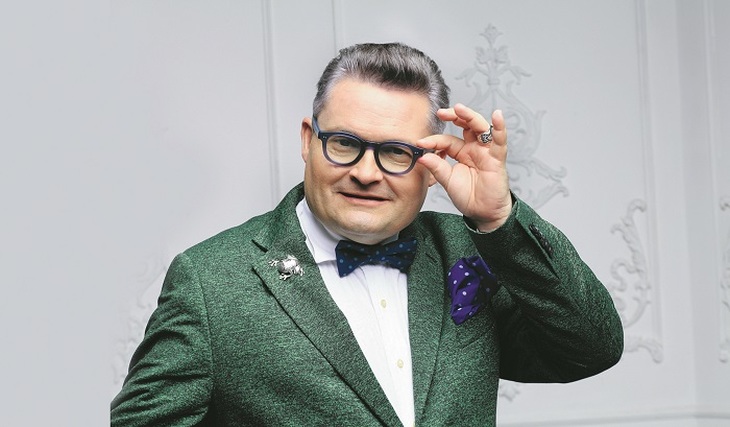 For more than 10 years, Alexander Vasiliev has been the fashion chief on our TV.
The spectators simply adore him, they are ready to listen for hours. But Vasiliev is not only "Fashionable Sentence". He does not leave his original, pre-television profession either. In between shoots, the famous fashion historian organizes exhibits from his personal collection. And he has it really huge! ..
"THE CULT OF STRENGTHENING IS ENDED IN THE SPRING OF 2020"
– Alexander, to begin with, tell me as an expert: what colors are relevant this summer?
– The most fashionable colors are silver and gold, and the most relevant is yellow omelet. It is promoted as the color of the year. But be aware that the yellow color practically does not suit anyone, except for burning brunettes and fawn blondes. This color gives a tinge of jaundice to the face. Take this into account and be sure to do makeup if you choose an outfit of this shade … Now whitish shades are still in fashion. This, of course, is the legacy of the coronavirus – don't even go to a fortune-teller here! I would say that this is the color of the hospital. It is called pearl gray. In principle, he is very gray-haired. If you are over 50 and have gray hair, then all shades of gray suit you absolutely and one hundred percent – it will be elegant and stylish. In addition, the color of burgundy is now in vogue. Wherever you go, people are sitting everywhere either in a burgundy turtleneck or in burgundy knitwear. It's just the hit of the season!
– Well, what about the shoes now?
– Nowadays, square noses, or, as we say, "duck nose" are in vogue. These were popular in the early 1990s and in the 17th century. There should also be square, stable heels.
– And the pins? They kind of went out of style …
– I'll tell you why they went out of style: because we survived the year of the pandemic. During this time, the majority of the population, sitting at home, grew strongly and gained weight. Studs were good when everyone was slim. But the cult of slimness ended in the spring of 2020. Now there is a cult of body positive: there are a lot of priests and breasts, and this cannot be endured in any way on stilettos. Therefore, a square and stable heel!
"I BECAME LESS EXTRAVAGANT"
– Alexander, tell me, can you judge a person by their clothes?
– You can judge.
– That is, you do not need to talk: looked around – and everything is clear?
– Yes, I scan every detail. But until I have visited a person at home, I cannot get a complete impression of him. You know, adventurers often use a change of clothes. How many times have we heard: "A decently dressed lady came up to me and robbed me." Or: "Decently dressed young people called the apartment, went in to fix the gas, and then we missed a spoon." Therefore, clothes are sometimes very deceiving. Fashion exists so that anyone can change their clothes. Women of any appearance, any complexion come to our show "Fashionable Sentence". And we can make duchesses out of them. Depends on makeup, hair color, styling. And from the clothes they will wear. But! As soon as we get into their house, this is where the whole truth comes out.
– Who do you think is our most stylish artist?
– Well, let's not talk about artists, but generally about famous people. Among the stylish, I want to highlight Renata Litvinovwho dresses very well, choreographer Alla Sigalova, she always looks great.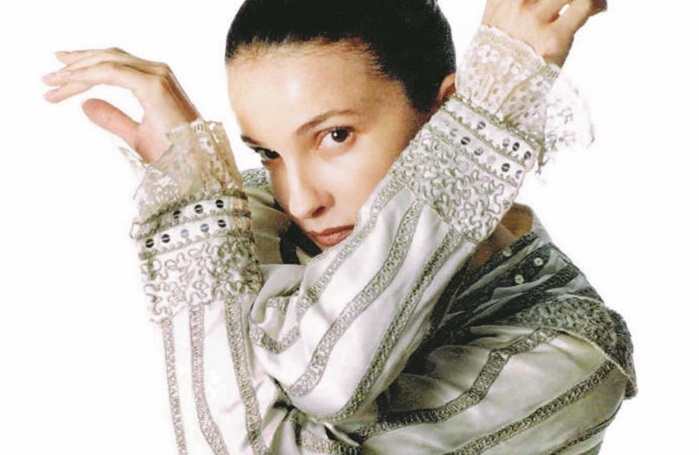 And among the singers, I would single out Katie Topuriawho dresses interestingly and extravagantly.
– And Laima Vaikule?
– I like her too. Of course she's stylish … Ira Ponarovskaya, Alla Pugacheva … All stylish, but at different times. A Claudia Shulzhenko how stylish she was! A Isabella Yurieva! But they were stylish in a different era …
Has your personal style changed in the last 10 years? Channel One, he, in general, brushes everyone with the same brush, even those extraordinary like you.
– Changed more in terms of clothing. I had to multiply my personal wardrobe tenfold, because there I have to change four times a day: four shootings – and therefore four new images.
– You seem to look stricter.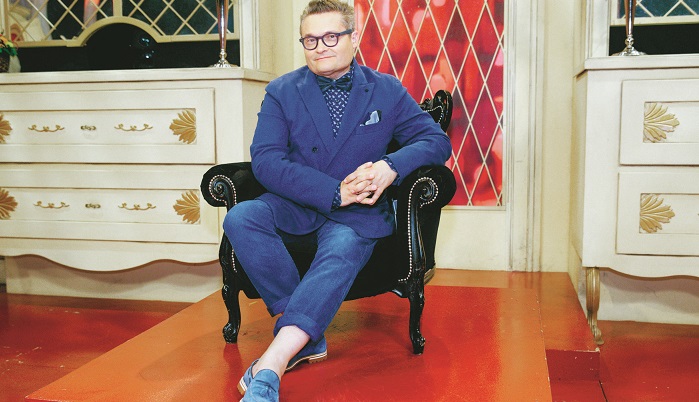 – It is hard to say. Perhaps I have become less extravagant. The masses don't like extravagance – I read reviews on the Internet, in social networks.
– Are there many offensive ones among them? It's no secret that people don't like those who are different from themselves.
– I would say less than one percent out of a hundred. And, as a rule, these are anonymous – no photos, no comments, no friends. That is, as I understand it, these people are outside of society.
"THE COLLECTION COSTS MILLIONS OF EUROS!"
– Now about your famous collection. The first thing when it appeared?
– I started collecting at about eight years old. My mother was a very elegant, I would even say stylish woman. She kept a lot of clothes, tried not to throw anything away. This, of course, became the basis for my collecting.
– And why all of a sudden they began to collect clothes?
– Well, why do people start collecting stamps? Obviously genetic – we cannot say. Someone collects candy wrappers, someone – badges …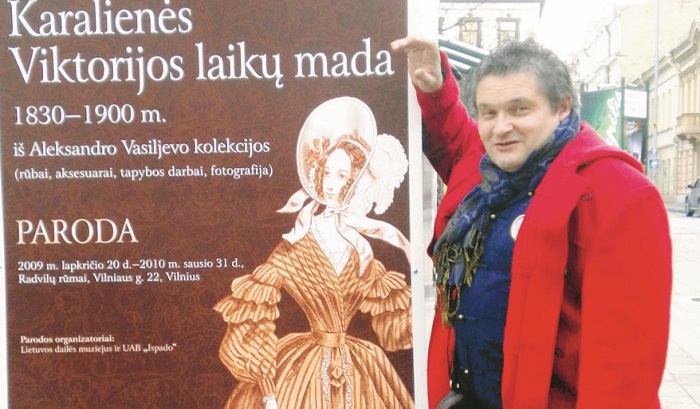 – Books, cars, houses …
– Books, cars, houses. Women … Everyone's different. I thought it was so wonderful! And then, I thought that collecting would be the impetus for my creativity. So, in general, it happened. Why are there so many theatrical performances in my design going around the world? Why do people turn to me? Because they are confident that they will receive uniqueness and style knowledge without mistakes.
– Alexander, they write that your collection of outfits is worth several million euros …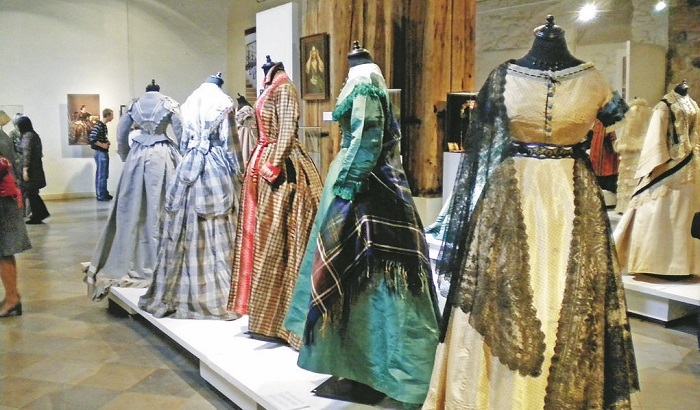 – This is true. They don't lie … But, you see, the collector doesn't buy anything at its real value. This collection is worth the money. The most valuable thing is your knowledge multiplied by the cost of the item. Never thought about it? That you can find a thing for which you will pay 300 rubles …
– Will it cost ten times more in your collection?
– About. Because it makes up a set with another thing. A thing acquires a more valuable frame when it is not a single one, when it represents a fragment of a collection. When you have more than one Dior dress, but, say, eight. And I have achieved that for each decade I can make a full-fledged exposition of 75 models. And not anyhow – exhibition, museum quality. But there are also hundreds in the reserve that do not pass according to some parameters, for example, the stain is not removed, holes from moths, the absence of a neck or number. Do you understand what it means to collect such a collection? It's collecting a museum!
– Where is all this stored?
– In France.
– In your house?
– No, what are you! What kind of house should I have ?! No, no, this is a free-standing storage facility near Orly airport. 4 containers, 33 cubic meters each, filled with wardrobe trunks with dresses. So not at home, by no means. I don't want to live with this. I have enough pictures of the house, antique furniture …
"DO NOT SMOKE, DO NOT DRINK, DO NOT ENJOY"
– They say you have five houses all over Europe. But, perhaps, you can live only in one place, in the rest you can be on short trips?
– You cannot imagine: every house is arranged exactly like my house. That is, there are all sets of dishes, all sets of linen, all sets of my books. Absolutely everything I need. It seems to you that you can live in one house. I have proven that you can live in five houses.
– Even now, in the era of a pandemic?
– Well, now we cannot travel wherever we want. Therefore, now my favorite place is my apartment in the Kaliningrad region. I have a lot of interesting antiques there, and for me it is very valuable. It is very beautiful in Zelenogradsk! Yes, crowds of tourists come to my house, look into my windows. It's nice. This is the flip side of fame, but I feel good about it …
– You do not hide your age – you are 62 years old, and you look great. Are there any secrets?
– I have not given myself a single beauty injection, I have not a single surgical intervention. I use the cream, honestly. And as for the secrets, or, better to say, advice … Try not to drink alcohol, smoke, do not overeat at night. You have to breathe a lot of air. I've been to the sea, and for my lungs, as for a person who survived the coronavirus, this is very useful …
Article Categories:
Show Business