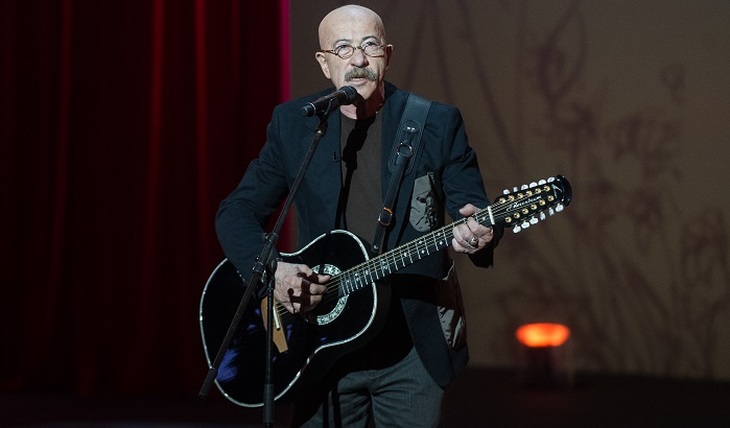 On September 13, Alexander Rosenbaum will turn 70 years old.
A solid date, but the famous bard is not going to cover his guitar yet. Recently, for example, "taking advantage" of the pandemic, he recorded a new album. And he began to celebrate his anniversary in Sochi, where a closed event for friends and colleagues was held during the "New Wave".
The party was more like a skit, where anyone who was present could sing a song or tell some interesting story about the hero of the day. By the way, it was held in the Soviet style. At the entrance, they handed out seeds, carbonated drinks with syrup, and popsicle. Well, on the festive tables there was what was usually eaten in those times: crayfish, boiled potatoes, Olivier salad, Kiev cutlets and many other dishes that literally smelled of nostalgia.
And this is no coincidence. Rosenbaum, for all its current popularity, comes from the past.
He has been associated with music since childhood. The future People's Artist of Russia graduated from a music school in piano, and then a music school in a class of jazz arrangement. Moreover, at the music school, Sasha studied reluctantly at first: like many boys, he was more attracted to playing in the yard until late at night. But as a teenager, Rosenbaum was deeply impressed by the performance of a pianist of a jazz ensemble at dances, where he happened to be. The second impetus was the acquaintance with the guitar.
– My first song, which I played on the guitar and sang, was "The boat swam, swayed" from the movie "True Friends," recalls Alexander Yakovlevich. – I remember the first D major chords on the seven-ruble guitar, which I begged from my dad. They were shown to me by an adult, about 22 years old, the son of our neighbors. I was very fond of this uncomplicated, but very fitting melody to the ears and soul.
Probably, many people know that Alexander Rosenbaum is a doctor by his first profession. As did his parents. In general, he continued the family dynasty, after school he entered the medical school. Rosenbaum received a diploma in general practitioner specializing in anesthesiology-resuscitation. Immediately after graduation, he got a job at the first ambulance substation, where he worked for almost six years. But, according to the artist, leaving medicine was inevitable for him. The song has ceased to be a hobby, but has essentially become a second profession. It was necessary to choose: to be either a doctor or an artist. He chose the latter.
– Medicine is my life: from the medical institute, in the family of students of which I was born and which I myself later graduated from, to the people closest to me, with whom I have been connected for more than 50 years, – the artist admits. – I miss the ambulance incredibly, I dream about it! And with love I remember all those and all that gave me the feeling and understanding of man, his inner world and psychology. With this knowledge, creativity is clearer …
Rosenbaum not only constantly tours, gives concerts for his fans, but also repeatedly travels with his performances to hot spots. I was in Afghanistan, in Chechnya, in Syria …
– You can tell a lot about these trips, – says the artist. – But I will give just one example. At one airfield, where we climbed from the transport to the turntable, a lieutenant colonel came up to me. "Can I take a picture, Alexander Yakovlevich?" – "Of course!" – "I want to wipe my father's nose!" – "Why? Why?" – "And he poked your photo with him from Afgan all his life in the face. Now I'll send him mine! " This is happiness! He sang to his father in Afghanistan, and 34 years later – to his son in Syria. It would be better, of course, in other places, but that's how life ordered it. The main thing is that both are alive: both father and son.
Yana Nevskaya.
Photo: Channel One.
Article Categories:
Show Business