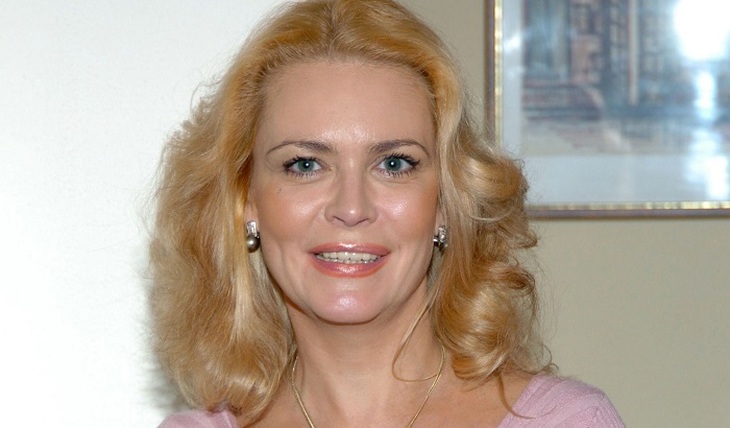 Alena Yakovleva became a grandmother! The daughter of the legendary Yuri Yakovlev told us about this joyful event, as well as other joys and sorrows in her creative and personal life.
in an interview.
– Alena, quite often, artists do not even want to hear the word "grandmother" addressed to them, and they forbid their grown grandchildren to call themselves that …
– No no. I want my granddaughter, when she learns to speak, to call me only grandmother. And what? I'm a grandmother! Those of whom you are talking about want to hide their age in this way? Lord, and who now does not know who how old! I am completely calm about this and I understand everything perfectly about my age. Yes, I'm a grandmother now. But the grandmother is young and works a lot. Now I have a very active time. Stormy. Therefore, a classic … just such a grandmother-grandmother, of course, will not work out of me. Although I will, of course, help if possible. But the daughter and son-in-law do not need this. They are the right guys, they understand everything perfectly. Masha is an actress herself…
– Probably, the daughter misses the theater, filming?
She doesn't like theater as much as I do. More like cinema. And bored – not the word! All the time that I was on maternity leave, my daughter complained: "I can't sit around like this!" Although it was – they are with Vanya (Ivan Zamotaev, actor and musician. – Ord.) a grandiose repair was started, all the walls were broken in the apartment. And Masha did this mainly, because Vanya worked. In general, he works for days – you need to earn money, pay off debts for repairs. And Masha is a great fellow! During pregnancy, I went to courses, became an interior designer. Like, since I won't have filming or theater for a long time, I need to learn something useful. I have no doubt that she will succeed with the design. But now she, of course, is not up to it. Now we have Ivanna. By the way, for some reason it seemed to me that the granddaughter would be a Gemini, like me. The sign is heavy, first of all for the person himself, because all the time these internal throwings! But our girl, perhaps catching these thoughts of mine, decided to be born under a different sign. (Laughs.)
"I LOVE TO LIVE IN THE BEAUTY"
– Say, you have a lot of work now. As I understand it, this is the shooting of the eighth season of the series "I Know Your Secrets." Who are you in this detective – the villain?
– No no. I am the mother of the main character played by Agata Muceniece. According to the plot, my daughter is a verifier, that is, she has the ability, by looking at a person, to determine whether he is lying or telling the truth, to "count" his emotional state, and thanks to this gift, she gets into a detective story and helps the investigation. At first, my heroine was also somehow interspersed in the detective line, but in the following series, alas, this was no longer the case. Now she is just a mother, wife and grandmother. And I, like my heroine, also, of course, would like to participate in investigations. This is my recommendation to screenwriters. (Laughs.) But I'm filming right now, not in this series – in another.
– In which?..
– It's called Madhouse. I hope it turns out to be a very funny comedy! And a good company gathered – Roma Kurtsyn, Lesha Maklakov, Anya Kotova, Lena Simonova, Anfisa Chernykh … Very cute children are filmed. And shortly before filming, I returned from a tour of the cities of Siberia with a private performance. I celebrated my birthday in Irkutsk.
– I know that you like to celebrate your birthdays with a large number of guests and in the most unusual way: sometimes on a ship, sometimes in an old mansion. How was it this time?
– So "unusually" I celebrated anniversaries. I celebrate other dates more modestly. This time it was just a banquet in a restaurant, our entire tour
called the team. It also turned out to be a wonderful birthday.
– Have you been presented with another author's doll? I read that there are more than two hundred of them in your collection!
– The dolls were presented by both our team and the fans (handed over after the performance). And my friend, a wonderful actress Tanya Yakovenko, saw an artist on the street who was selling his works, one of the pictures, which depicted three children – Buryats (and this was in Ulan-Ude), she bought and gave me. Now I'm wondering where to hang it. There are so many things in my apartment! (Laughs.) What to do – I like to live among beauty. Well, as I understand it.
– Surely there is beauty in the country?
– O! Everyone who sees my site says: "God! What is not growing here!" And magnolia – purple and yellow – and hosta, and between them begonia, and also grass, forest … I really have a very beautiful place. And there is no such sharpening. My site is like my character! (Laughs.) There is a lot of everything, and everything is for different tastes. You want – lilacs, you want – peonies, you want – hydrangeas. And I do everything myself, and where I can't do it myself, I control it. Now we need to paint the house. Urgently. It has been standing unpainted for eight years. Repairs began to be done, because I was flooded …
"I DON'T NEED TO MARRY"
– It's hard to imagine how you cope with all this without an assistant, without a man in the house.
– Men did not make life easier for me, but always complicated it … Yes, I can admit that I was somewhat frivolous about what is called personal life. Therefore, there is no man in the house. I've been working too hard. You could say this is one of my mistakes. In the sense that I just went with the flow and did not work to find family happiness, connect fate with the person who, perhaps, is my soul mate. Romanov, there were many stories, but I never took it seriously. And I never saw support in a man. I have not met a person about whom I would understand: I can rely on him. In most cases, weak people stuck. There were exceptions, but very rarely. And husbands with good reason to call exceptions, I can not. But talking about them now is bad and making money on it, I think, is simply immoral. If I lived with them for a while, then it was necessary for something.
– Now there is a man with whom you are interested in spending time together?
– No two. I have a lot of fans, I am happy to communicate with someone, even make friends. There are those among them who have been looking after me for a long time and periodically invite me to marry. But I don't think I need to be in that relationship anymore. What for? I am comfortable in my current state. Perhaps there is a person living somewhere for whom I would decide to change my life, but I have not yet met him.
– And the person to whom you can talk about problems, about emotional experiences, is such a "vest", does he exist?
– Even in the most problematic periods of my life, I never cried into anyone's vest. Well, somehow it was not accepted in our family. I was raised quite harshly. I never showed my emotions in public, I could only come home and sob into the pillow. But my Masha is different, she is very emotional. If anything – immediately sobs. I am trying to re-educate her in this regard, I say: "Masha, never show your emotions. Nobody! Firstly, such intemperance is a bad form, and secondly, no one will sympathize, they will only discuss behind their backs. In addition, people already have a certain idea about you that you are always cheerful, always positive. Why destroy it? We must maintain the right image!"
"ETERNAL LOVE DOES EXIST"
– So, the characters with your daughter are different?
– Yes, Masha is completely different. She's so…too rational, isn't she? (Laughs.) But at the same time, she is an amazing girl. My main gift that I received from life. Not everything Mashka agrees with me due to the fact that it is really a different character, a different generation. But at the same time she is very attached to me. If we quarrel – the daughter is all, does not live. I also worry terribly, but she just does not sleep, does not eat, and always takes the first step towards reconciliation.
– However, as I understand it, you approved her choice of husband, there were no disagreements on this issue?
– Fully approved. Here Masha just worked on this issue, unlike me in my younger years. She also had a lot of all sorts of mistakes before her 25 years, but she worked through everything, analyzed, and drew conclusions. By the time she met Vanya, her daughter already knew exactly what she expected from the relationship, what kind of man she wanted to see next to her. And when she met Vanya, she said: it's him! They are a very harmonious couple indeed. They are both completely non-materialists and minimalists. Unlike me, a big lover of beautiful things. (Laughs.) Masha is very economical, economic and independent – she will never ask for anything. In general, some of them … the right guys. Right in relation to life. And the fact that they did not delay with the child, I think, also speaks of this. Of course, I wish them, now three of them, happiness and endless love. By the way, I believe that such a love that does not pass, still exists …
Marina Boykova
Photo: PERSONA STARS
Article Categories:
Show Business