09:13, 09/14/2020
The reality star admitted that she had changed her mind even about the close people involved in the project.
In early August, it became known that 23-year-old Alena Rapunzel was leaving the Dom-2 project not on a very positive note. The parties chose not to talk about the reasons for the scandal. Together with the reality TV star, her 21-year-old lover Maxim Kolesnikov left for the Perimeter. However, after three days he gave up his passion to settle down in a rented apartment and returned to the show.
Rapunzel was going through the breakup hard. However, the girl did not give up, but decided to open her own business selling clothes for boys. Having calculated that she needs at least 350 thousand rubles a month to live with her son Bogdan, Rapunzel got a job as a news presenter on the TV channel. Also, the ex-reality TV participant recorded a song with the musician HYDY, which she dedicated to her broken heart.
As Alena recently admitted, she is no longer interested in what is happening in "House-2", since she has a different life. She noted that she would come to the show "Borodin against Buzova", but only to support her sister Olga or the father of her child, Ilya Yabbarov. Today Rapunzel Jr. told that what is happening in "House-2" makes her sad. "Damn, I'm looking at q2 today, and I understand how little sincerity there is on the part of people. And how people will go over their heads, helping children for the sake of money. Without love, feelings, ready to leave, forget children, family…. Abortions, DNA ... what a dirt, it's a pity, of course, that everything is so sad, "complained Alena in the Stories of her microblog on Instagram.
Alena Rapunzel was disappointed in the project "Dom-2"
In her opinion, negative changes have taken place recently. They opened her eyes to close people, the opinion of whom had to be changed. "After all, the house once lived, boiled, and there really was life, each participant was interesting, the stories were all powerful and real ... But now ... How low is it to listen to all this. It's good that my son is still little. And that I really felt that everything needed to leave the project. And it's not for nothing. I even feel sorry for the project. Or the project is not to blame ... but people are like that. I say my opinion, because I changed it there about many. Including too close ones, "Alena summed up.
After an unexpected breakup in Maxim, Alena actively took up her career
By the way, recently the ex-participant of the TV show admitted that she is deeply rethinking her own life after participating in the project. She admitted that her brain had been shut off for nearly three years while she lived inside the Perimeter. After all, she did not need to think about work, housing and food. Everything changed dramatically after leaving reality. However, Alena believes that she did everything right, including that she left the show with a one and a half year old Bogdan...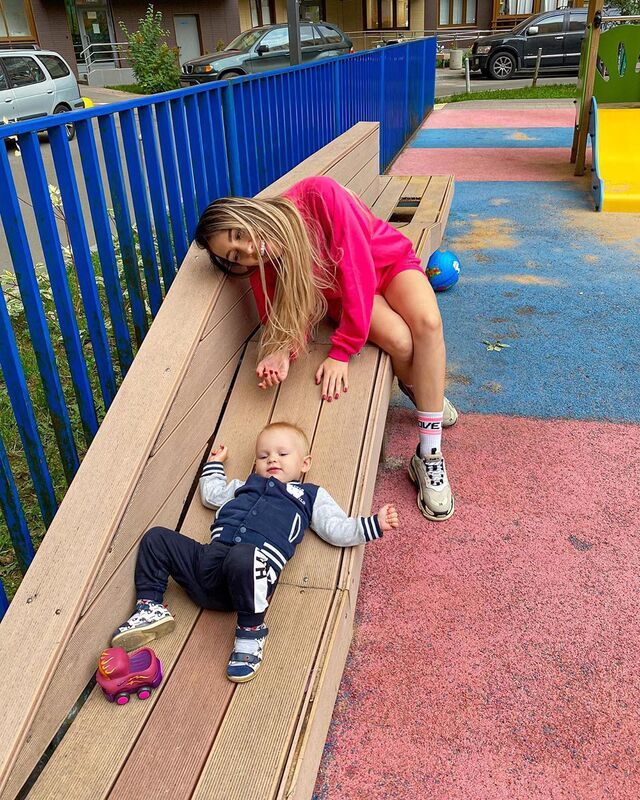 Alena believes that she took her son away from the project on time
By the way, in August Alena's older sister Olga Rapunzel returned to the project after maternity leave with her two children. Mum Vasilis and Sofia rejected the words of critics that she and Dmitry Dmitrenko found love and took everything they could from the project. According to Olga, she could not leave reality, despite the fact that it will be hard with babies on TV. Say, her army of fans is waiting for Rapunzel Sr. and her family not to leave the screens.
Together with the baby, Sasha Cherno and Iosif Oganesyan returned to the Save Your Love project a few weeks ago. They came to the project a month after birth. Stefan... According to Sasha, the show's management asked her to leave the maternity leave early. She noted that in reality they do not earn millions and will leave reality if they begin to get badly. At the same time, Cherno said that she was ready to divorce her husband for 5 million rubles, but on condition that they then get married again.
Read also:
The star of "House-2" Alena Rapunzel spoke about the bullying that single mothers are subjected to
The star of "House-2" Alena Rapunzel admitted that for the past three years she seemed to have lived with her brain turned off
The star of "House-2" Alena Rapunzel has published an excerpt of her future song
Article Categories:
Show Business