18:50, 01.24.2021
The actress also complained about being irritable.
On January 12, Alena Khmelnitskaya turned 50 years old. The actress boasted that on this day she was bombarded with flowers and congratulations. And her lover Alexander Sinyushin invited a jazz band, which gave the birthday girl a performance right under the window. However, on her birthday, the actress was left without a celebration – she fell ill with coronavirus.
A week ago, Khmelnitskaya published a video from the hospital ward. The actress said that she was hospitalized, and now she will be under constant medical supervision. However, on December 19 it became known that the artist was on the mend. Then Alena said that her sense of smell had returned to her. "Cheers cheers!!! Smells come back to me! How nice and good it is. Yesterday she automatically pissed herself off with perfume, and suddenly, lo and behold! A scent that I did not feel from the word "at all", I can feel it again. I am very glad, and the mood immediately became better, "Khmelnitskaya shared in her microblog on Instagram (the spelling and punctuation of the authors are hereinafter given without changes – Prim. line.).
Alena Khmelnitskaya, who is sick with coronavirus, announced her hospitalization
However, today Khmelnitskaya again complained of strange symptoms of COVID-19. So, the actress admitted that she could not concentrate on anything and became irritable. "God! More likely to have work. Tell us, what are the consequences of the virus? I am still very strange … terribly irritable, I do not understand what is wrong with me, but clearly something is wrong … I can not concentrate on anything, be interested in anything … humor does not save … the book and the film do not enter my head … like me. The only thing I want is for all children to receive treatment and as soon as possible !!! And I don't know what to do with all this !!! .. Forgive the confusion, I try very hard to hold on …. "- Alena wrote.
We add that earlier Khmelnitskaya reported an unusual side effect of the coronavirus. Alena said that since she fell ill with COVID-19, she has been overcome by insomnia. Khmelnitskaya noted that her lover also had a coronavirus, but after recovery, she did not complain about the lack of sleep.
Alena Khmelnitskaya with a 37-year-old lover
Note that Alena is raising two children born in a marriage with film director Tigran Keosayan – Alexandru and Xenia… The director left the family when the youngest girl was three years old. At that moment, he had already met with Margarita Simonyan and the lovers were expecting the birth of a common child. Interestingly, in the end, Khmelnitskaya and Simonyan became friends and now communicate with families and visit each other. On the day of Alena's 50th birthday, Margarita published a post on her microblog on Instagram, in which she touchingly congratulated the actress on her anniversary, confessing her love and stating that they are one big family.
By the way, the eldest daughter of Khmelnitskaya has been living an independent life for a long time. She graduated from the faculty of film directing at one of the universities in the United States, and now works in Moscow. On September 21 last year, Sasha celebrated her 26th birthday and presented her debut music album under the creative pseudonym Asha. And Ksenia Keosayan followed in the footsteps of her parents and has already tried herself as an actress.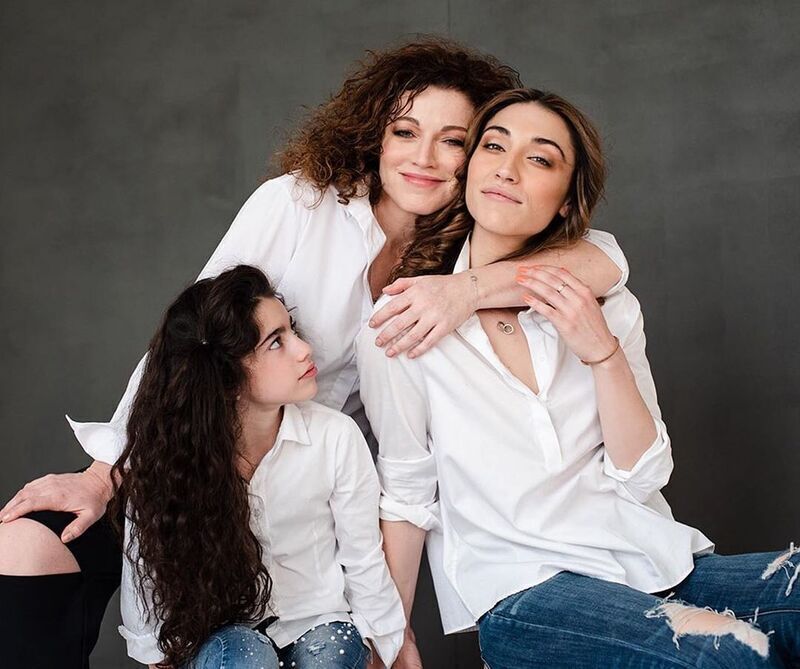 Alena Khmelnitskaya and her daughters from Tigran Keosayan
Read also:
Alena Khmelnitskaya said that her young lover had a coronavirus
Alena Khmelnitskaya, who is sick with coronavirus, complains of persistent insomnia
Alena Khmelnitskaya remembered her romance with Yegor Konchalovsky
Article Categories:
Show Business