22:25, 03/05/2021
The wife mixed the star with sedatives in alcoholic beverages.
40 year old Gauguin Solntsev and 65-year-old Ekaterina Tereshkovich got married in April 2018. From the very beginning, the showman's relationship with his wife was characterized by frequent and loud conflicts. Today Gauguin and Catherine visited the studio of the show "Live"to share the details of their latest scandal.
Gauguin Solntsev appeared in the studio "Live" in a wheelchair
In February, it turned out that the last months of the Solntsev secretly underwent treatment for alcohol addiction in one of the private clinics. His wife insisted on hospitalization of the showman. According to Gauguin, Catherine by blackmail forced him to stay in a medical institution. It is noteworthy that Solntsev himself did not admit that he was sick – according to the star, his wife mixed sedatives into his drinks in order to cause inappropriate behavior. Moreover, Gauguin said that it was Tereshkovich who abused alcohol.
Gauguin Solntsev in the show "Live"
Catherine did not abandon her accusations against Solntsev. As evidence, the star's wife provided entries from her video diary. On roller skates, Gauguin raises his voice to his spouse, and also uses physical force. Tereshkovich said that she wants to help her lover with his addiction. In response, Solntsev admitted that he wants to finally part with his wife. However, Catherine replied that she was not going to give the star a divorce just like that – in return, the showman's chosen one asked Gauguin for seven and a half million rubles. The demands of his beloved outraged Solntsev. The showman defiantly threw an engagement ring at his wife.
We add that Gauguin and Catherine were already on the verge of divorce earlier. So, in 2019, Solntsev went to rest in Thailand with another woman shortly after his wife left the rehabilitation center. The showman himself claimed that he did not have an intimate relationship on the side, but Lydia, with whom he traveled, is only a girlfriend. According to Gauguin, during the trip, he and a friend slept in separate beds, although they slept in the same room. Solntsev also said that he called his wife to join them on the journey, but Tereshkovich refused. However, this did not prevent Gauguin from having a good time – in his microblog on Instagram, the star actively shared pictures from the rest, which Lydia attended.
Gauguin Solntsev with Lydia
It is noteworthy that despite the statement about the absence of an intimate relationship with Lydia, Gauguin repeatedly compared Catherine with a woman. As Solntsev said, his new acquaintance takes much better care of him than his wife. "She brought me coffee and breakfast from the restaurant in the morning. The thing is, I get up very late. At this time in the hotel restaurant breakfast, as a rule, ended. And Lida took care of me! It's so touching: I can tell you that Katya never did that, "the showman shared. Solntsev also hinted that Lydia does not treat his wife very warmly. So, during a vacation in Thailand, a woman gave the star a souvenir – a skeleton in a black dress and said that the toy looks like Catherine.
Note that at one time it was Tereshkovich who helped Gauguin Solntsev to cope with a difficult period in his life. Former beloved showman, 36-year-old Galina Ivanova, died under frightening circumstances. The ex-darling of Solntsev was killed by a Bitsa maniac. After the death of Galina, Gauguin fell into depression, but thanks to Catherine, he was able to survive the grief. According to the showman, Tereshkovich began to visit him often and help with household chores, and then was able to convince him to go on a trip.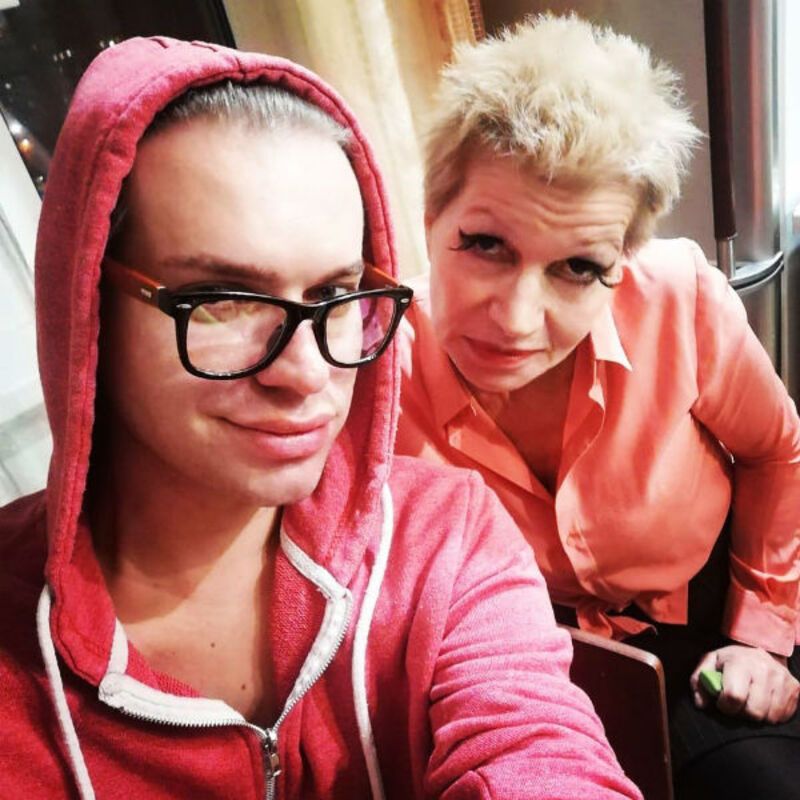 Gauguin Solntsev with his wife Ekaterina Tereshkovich
Read also:
40-year-old Gauguin Solntsev appeared in the studio of the show "Live" in a wheelchair
Gauguin Solntsev called his elderly wife Ekaterina Tereshkovich "the country's main drunkard"
Gauguin Solntsev said he wants to take Alla Pugachev away from Maxim Galkin
Article Categories:
Show Business