14:15, 14.10.2020
This year Timur is three years old.
Yegor Konchalovsky became a father for the second time in 2017. Then the director and his chosen one Maria Leonova had a boy, whom the lovers gave the name Timur. Konchalovsky prefers to keep his personal life a secret. It is only known that he has been in a relationship with a new darling who works as a lawyer for several years. Egor and Maria wear wedding rings on their fingers, and there were also rumors about their secret wedding. The lovers themselves did not confirm this information.
Today, in his microblog on Instagram, 54-year-old Yegor Konchalovsky published a snapshot of a grown-up three-year-old son from 36-year-old Maria Leonova. The director rarely talks about his son, but he already introduces him to work. For example, together with Timur, Yegor Konchalovsky chose the laureates of the We Are Near Prize, the purpose of which is to reward people for good deeds.
Yegor Konchalovsky published a photo of a grown-up son from a young wife
"I thought for a long time how to approach one important and responsible business. And then I realized that we have, after all, as they say: through the mouth of a baby, he speaks # truth. Therefore, I decided to take Timur as my assistant. Good luck to all the participants, Timur and I ran to study the applications ", - Yegor Konchalovsky wrote in his microblog on Instagram (the author's spelling and punctuation hereinafter are given without changes. - Prim. row.).
Timur is not the only child of Yegor Konchalovsky. The director lived with Lyubov Tolkalina for almost 20 years. Officially, the actress and director did not formalize the relationship even after their daughter Maria was born. This year the girl turned 19 years old - she received a school leaving certificate, entered the university and has already managed to get married.
Recall that Maria Konchalovskaya has been dating Nikita Kuzmin for several years, who is several years older than her. Despite her young age, Maria had already decided to go down the aisle, moreover, it was she who insisted that the groom propose to her. Konchalovskaya said that her beloved was not at all romantic, so during one of the walks Maria directly told him about her desire to become a wife. The very next day, the businessman gave his beloved a ring.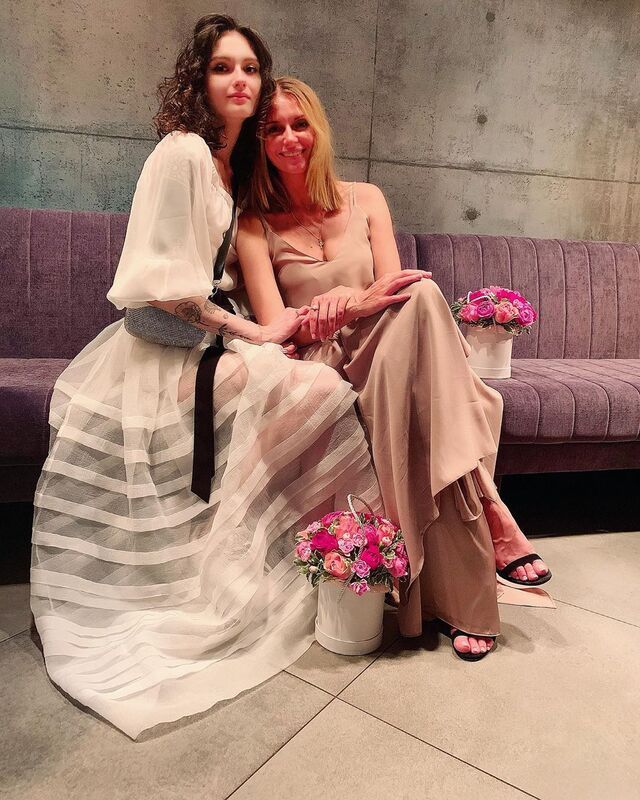 Maria Konchalovskaya and Lyubov Tolkalina
The wedding of Maria and Nikita had to be postponed several times, as the coronavirus pandemic constantly interfered with their plans. However, on September 7, Konchalovskaya and Kuzmin became husband and wife. The celebration was attended by the closest relatives of the couple. It is known that the bride's bouquet was caught by Maria's mother, Lyubov Tolkalina.
"They rarely marry at the age of 19 ... for love. Without self-interest and various forced necessities. "Don't live just like that," the children told me ... and invited me to the wedding. They decide, I support. A Monday wedding has its big advantages. Of course, on Saturday at two o'clock in the afternoon, everything would have been completely different ... in the Wedding Palace number 1, the following couples and guests would have breathed in the back of our heads, hurrying. there would be a hustle and bustle and crush, and the Monday we needed was quiet, bright, calm and special. And we allowed ourselves to do everything ... even to get lost on the way to this registry office ... "- wrote Lyubov Tolkalina in her microblog on Instagram.
Read also:
Yegor Konchalovsky published an archive photo of his mother with an award at the Venice Film Festival
19-year-old daughter of Lyubov Tolkalina and Yegor Konchalovsky complained about the persecutor
19-year-old daughter Lyubov Tolkalina explained why she decided to postpone the wedding
Article Categories:
Show Business