10:52, 13.10.2020
The artist continues to shock the audience.
Guf can be called one of the most scandalous Russian rappers. He regularly gets into incidents, publicly swears with famous people, and sometimes with his ex-wife Aiza Anokhina. The artist is painfully going through breaks with his beloved and does not hesitate to talk about it, as, for example, in the case of Keti Topuria. Now he decided to radically change his style and shared the result of the transformation in Stories.
Guf posted a boomerang, which shows that the artist's hair has turned from dark brown to green. It is worth noting that Guf returned from the Maldives a week ago - there he rested with his beloved Julia. During his vacation, the rapper put on a lot of weight and after arriving in Moscow decided not only to change his hair color, but also undertook to correct his figure.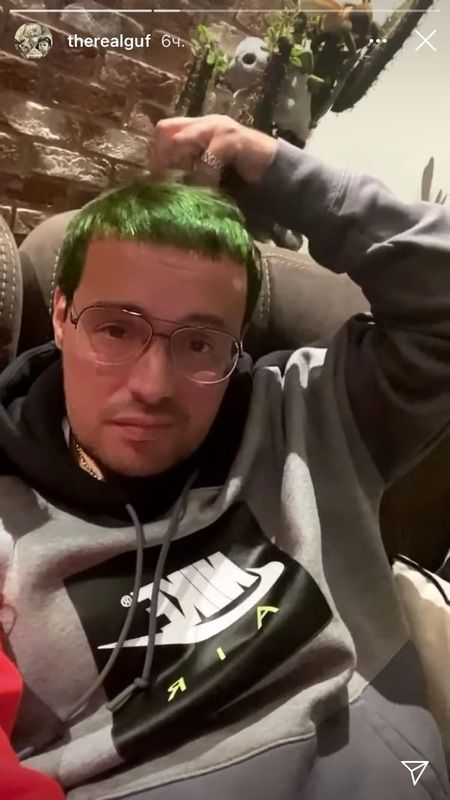 Rapper Guf radically changed his image and dyed his hair green
Recall that Guf has regularly come to the attention of the press for the past two years because of his antics or ambiguous statements. For example, at the beginning of this year, Guf conducted live broadcasts and fought with popular people, and once showed how he set his dog on a neighbor's. A year ago, in an interview with Ksenia Sobchak for the show "Beware, Sobchak!" he insulted women of southern nationalities altogether.
It should be noted that recently Guf has settled down, took up creativity, established relations with Aiza Anokhina, spends a lot of time with his son and is happy in a relationship with Julia Koroleva... It turns out that the lovers have been together for a year. Alexei has long been talking about the fact that he wants to start a quiet life with a new darling. During a vacation in the Maldives, Guf completely provoked rumors of an engagement with a girl, giving her a ring on her ring finger.
Guf and Julia Koroleva
True, it turned out that Julia and Alexei did not think at all about the wedding and that they should legalize their relationship. The couple took part in the show "Guest performer"... Julia admitted that she and Dolmatov do not consider their relationship serious and can part at any time. Guf admitted that Julia does not bother him and knows how to behave in society, and this suits him. In addition, lovers enjoy traveling together.
The Queen stressed that Alexei did not make her a marriage proposal. "I haven't asked to get married yet. We have a simple and light relationship. There is no question of any seriousness. If I like someone or he wants another girl, we can let each other go, "said Yulia Koroleva. We add that Guf met with Keti Topuria for two years, but the girl decided to part with the artist, practically without explaining anything to him. Guf admitted that he did not understand why they broke up, because everything was fine in their relationship.
Read also:
Beloved Guf called their relationship frivolous
His 10-year-old son starred in the new clip of rapper Guf "Summer to the Wind"
Rapper Guf thanked his beloved for her patience, congratulating her on the first anniversary of the relationship
Article Categories:
Show Business