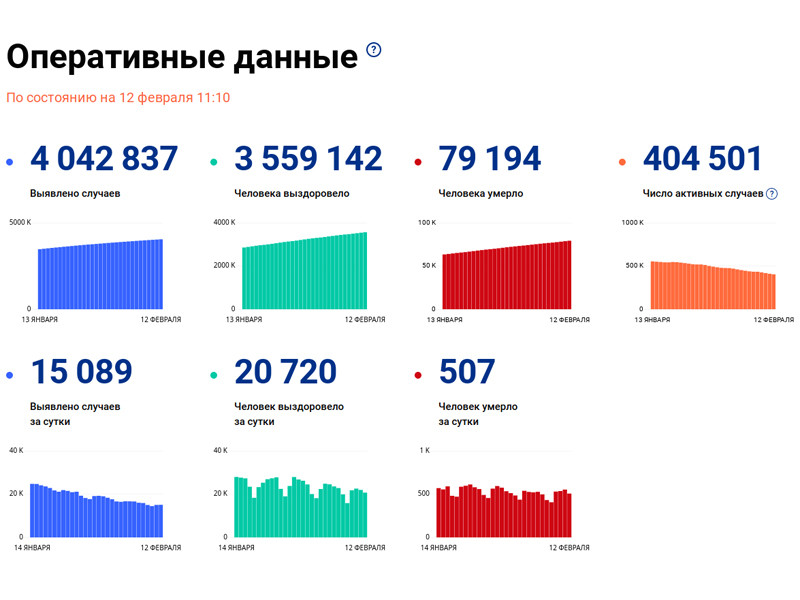 Stopcoronavirus.rf
The number of people infected with coronavirus in Russia per day increased by 15,089 to 4,042,837. According to the Telegram-channel of the federal operational headquarters, the lowest growth rates were recorded per day in the Republic of Tyva (0.07%), the Jewish Autonomous Region (0.09% ), Magadan region and the Chechen Republic (0.1% each).
The number of Russians recovered from coronavirus infection has increased by 20,720 per day. A total of 3,559,142 people have already recovered. Their share, according to the headquarters, increased to 88% of the total number of infected.
The number of deaths due to coronavirus per day increased by 507 against 553 the day before. In total, 79 194 patients died from the infection, another 404 501 people are continuing treatment.
New cases of COVID-19 by region (in brackets – the number of deaths per day):
Moscow – 2239 (63)
Saint Petersburg – 1134 (58)
Moscow region – 842 (30)
Nizhny Novgorod region – 439 (14)
Voronezh region – 359 (24)
Rostov region – 345 (25)
Samara region – 300 (10)
Sverdlovsk region – 276 (14)
Perm Territory – 265 (9)
Chelyabinsk region – 263 (8)
Irkutsk region – 251 (8)
Vologda region – 234 (6)
Saratov region – 232 (4)
Krasnoyarsk Territory – 225 (20)
Volgograd region – 216 (7)
Stavropol Territory – 208 (6)
Penza region – 205 (3)
Leningrad region – 202 (11)
Arkhangelsk region – 199
Omsk region – 179 (6)
Republic of Karelia – 178 (3)
Yaroslavl region – 177 (4)
Krasnodar region – 173 (17)
Altai Territory – 170 (13)
Tver region – 169 (6)
Trans-Baikal Territory – 169 (2)
Kursk region – 167 (2)
Khabarovsk Territory – 165 (1)
Belgorod region – 164 (7)
Republic of Bashkortostan – 160 (3)
Kaliningrad region – 159
Smolensk region – 158 (4)
Primorsky Territory – 150 (4)
Kirov region – 149 (1)
Tula region – 148 (8)
Bryansk region – 146 (1)
Ivanovo region – 145 (6)
Astrakhan region – 144 (3)
Kaluga region – 144 (1)
Vladimir region – 142 (7)
Murmansk region – 142 (6)
Orenburg region – 142 (5)
Lipetsk region – 142 (1)
Republic of Crimea – 141 (7)
Oryol region – 140 (4)
Tambov region – 137 (3)
Ulyanovsk region – 134
Khanty-Mansi Autonomous Okrug – 130 (3)
Novosibirsk region – 127 (6)
Komi Republic – 126 (3)
Novgorod region – 121
Tyumen region – 118
Republic of Buryatia – 109 (1)
Udmurt Republic – 99 (4)
Ryazan region – 95
Kurgan region – 90 (7)
Kemerovo region – 90 (1)
Sevastopol – 81 (4)
Kabardino-Balkar Republic – 80 (1)
Tomsk region – 78
Chuvash Republic – 72 (3)
Republic of Sakha (Yakutia) – 71 (2)
Sakhalin Region – 68
Republic of Mordovia – 66 (1)
Pskov region – 65 (2)
Republic of Dagestan – 72 (4)
Republic of Tatarstan – 72 (1)
Republic of Kalmykia – 59
Yamalo-Nenets Autonomous Okrug – 58 (1)
Kostroma region – 57 (2)
Karachay-Cherkess Republic – 55
Republic of North Ossetia – 47 (3)
Kamchatka Territory – 46 (6)
Altai Republic – 44 (1)
Amur Region – 42
Republic of Mari El – 42
Republic of Khakassia – 32 (5)
Republic of Adygea – 30 (1)
Republic of Ingushetia – 30
Chechen Republic – 15
Republic of Tuva – 11
Nenets Autonomous District – 8
Magadan region – 8
Jewish Autonomous Region – 4
Chukotka Autonomous Okrug – 3
Article Categories:
Politics